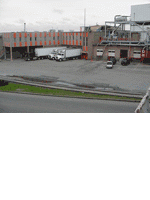 Maritime Terminal, Inc.:

Originally built in 1964, this facility is one of three located in New Bedford, MA and was the first freezer warhouse in the Maritime International, Inc. family. A 2.2 million cubic foot warehouse with a computerized refrigeration system to regulate temperature from -20 to +38 degrees fahrenheit. The terminal has railcar siding as well as 500 feet of waterfront dockage with an average draft of 30 feet allowing for efficient loading and unloading of vessels.

Maritime Terminal employs 24 hour alarm monitoring of security, temperature, refrigeration, and fire.